This year in August, to commemorate the 5th anniversary of the "Wall to Wall Baton Run", completed in 2011 by then Victorian Inspector Brian Rix and Leading Senior Constable George Berk, my partner in business and life, Tracy and I are heading off on our own adventure to re-trace Brian and Georges ride.
Brian wanted to do the ride again but sadly he and Shirley are still trekking across Siberia on their BMW 1200 GS. He gave us his blessing on the proviso that I did it again with him on the 10th anniversary……
We are doing this because like you who attend and ride from all over this big country, we love riding bikes, we want to raise money for police legacies but, most importantly, we do it to honour our colleagues who have paid the ultimate sacrifice.
In 2011 Brian and George carried the batons, each hand crafted by now retired Superintendent Stan SINGLE and did the ride in under three weeks. We are taking slightly longer, six weeks, and having some time to rest along the way. We will attend every state memorial with a shield that I had crafted from a slab of Huon Pine. Hopefully this can be auctioned off on the night at the post ride function.
The Annual National Legacy conference is being held in Sydney this year so I will be attending that also on the way around on the 7th and 8th of August.
We will then head to the NT and meet a group of the long riders and ride with them down the west coast and across the Nullabour. They will then head over to Tasmania, (our home state) while we explore the Barossa and G.O.R. in Victoria again.
We will meet up with them again in Melbourne on September 10 for the ride to Canberra.
We would like to raise more money along the way so if you can donate anything it will be appreciated. Donations are tax deductible. http://walltowallride2015.gofundraise.com.au/page/TassieRiders2015
We wish all riders and pillions a safe trip to Canberra and look forward to being part of the biggest ride so far.
Gav and Tracy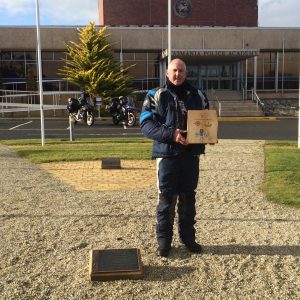 Below is our itinerary
2015 Wall to Wall Anniversary Ride Itinerary
Aug 1 – to Tas Memorial at Academy (photos with shield). Then to Devonport
Aug 2 – Sunday, depart on boat for Melbourne – day sailing, overnight stay
Aug 3 – to Rutherglen VIC.
Aug 4 – Rutherglen to Kiama (via Canberra on Hume Hwy unless weather is fine and no snow then continue onward to Batemans Bay then Kiama)
Aug 5 – Wednesday – Rest Day Kiama
Aug 6 – to Sydney Legacy Conference
Aug 7 – Friday – Sydney visit Memorial
Aug 8 – Saturday Legacy conference and dinner
Aug 9 – Depart Sydney to Broadbeach QLD
Aug 10 – Rest day Broadbeach
Aug 11 – to ROMA via Brisbane visit memorial (in Brisbane approx 8.30-9am
Aug 12 – to Longreach
Aug 13 – to Mt Isa
Aug 14 – to Barkly Homestead
Aug 15 – to Katherine
Aug 16 – to Darwin – visit memorial with Ed HAYDEN then onto Jabiru 650km (couple of days off the bike)
Aug 17 – rest day
Aug 18 – to Kununurra with Ed and NT boys
Aug 19 – Kununurra to Broome 1045 kms
Aug 20/21 – Broome rest days
Aug 22 – to Port headland 613km
Aug 23 – to Minilay Roadhouse 730 km
Aug 24 – to Monkey Mia
Aug 25 – Rest day
Aug 26 – to Perth
Aug 27 – late start to memorial then to Pemberton WA
Aug 28 – to Albany
Aug 29 – to Norseman
Aug 30 – to Eucla
Aug 31 – to Port Augusta
Sept 1 – to Adelaide
Sept 2 – Rest day bike services tyres etc
Sept 3 – Rest day
Sept 4 – Rest day
Sept 5 – Barossa
Sept 6 –
Sept 7 – Great Ocean Road -Lorne
Sept 8 –
Sept 9 – to Melbourne overnight – Dinner with interstate delegates prior to PAV Conference
Sept 10 – Melbourne to Bright via Black spur
Sept 11 – Bright via Mt Beauty to Canberra and Snowy mts Highway
Sept 12 – Canberra Wall to wall Ride