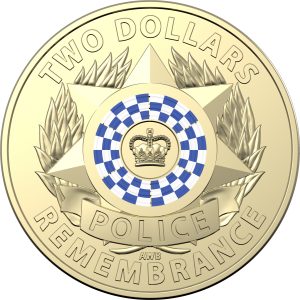 To coincide with the recent release into circulation, of a special coloured $2 coin commemorating the 30th anniversary of Police Remembrance Day, the Royal Australian Mint will have a Pop-Up stall at the Wall to Wall ride event, to be held on Saturday 14 September in the Fitzroy Pavilion, Exhibition Park Canberra.
Wall to Wall participants and their friends will be able to swap cash for sachets of the freshly minted $2 coins and purchase other Mint products associated.
Keep an eye out for the giant Police Remembrance Day $2 coin too – it's the perfect backdrop for a photo with your mates!
Note: These coin have been released early to banks throughout Australia, to allow them time to reach circulation in time for Police Remembrance Day in September.