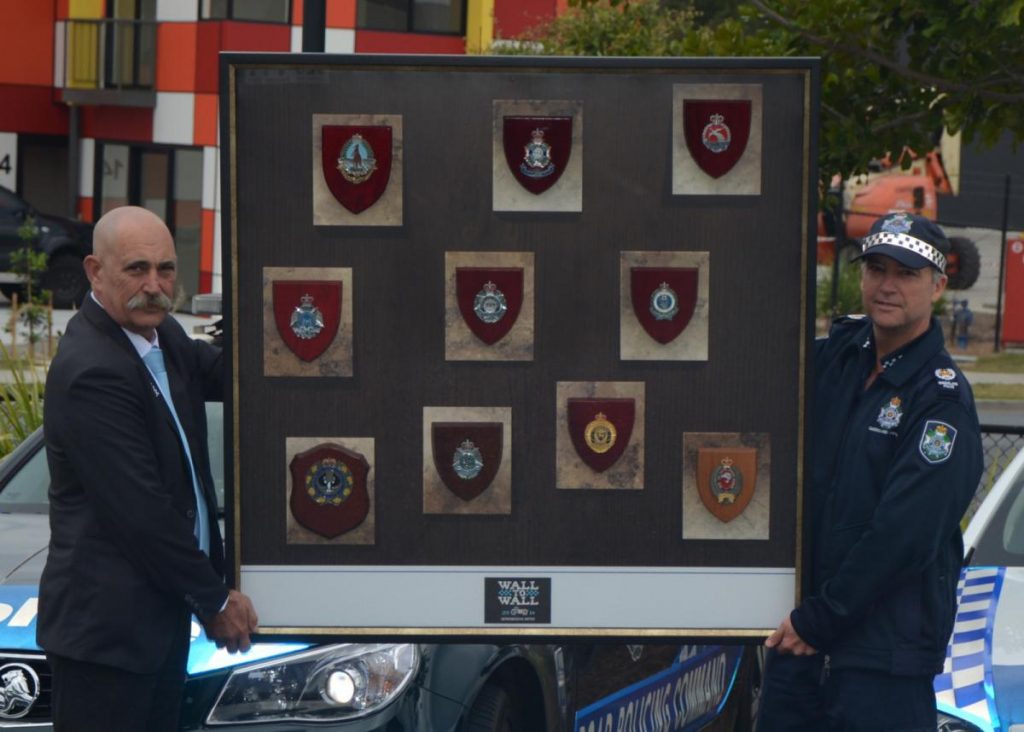 One of our Wall to Wall Ride participants (Mark Tull from Website Essentials) has donated a fully wood framed and glassed piece that contains 10 Police plaques from the various state and territory jurisdictions, including PNG and NZ Police Services. The individual plaques have been mounted to respectfully mimic the National Police Memorial wall design. The plaque also displays the 2016 Wall to Wall Ride for Remembrance logo.
This beautifully designed and crafted piece is 1.2 m x 1.2 m. (see picture attached) and will be auctioned at the Wall to Wall evening function on Saturday 17th September 2016.
This artwork is offered to all beforehand on a tender basis with the view to sale before the ride. All proceeds will go to Police Legacies.
If you would like the opportunity to secure this wall mounted collection of International plaques, please submit your tender to [email protected] by 31st August 2016. The successful tender will be announced following the National Committee Meeting on 6th September.
Should this donated piece not sell at tender it will be auctioned on the night Saturday 17th September 2016.
Mark Tull, designer and construction artist of this piece says, "I have been lucky enough to enjoy great fellowship, make some great new mates, found old lost mates and shared amazing experiences over the last 3 wall to wall rides that I have been on. Having been out of the job for a long time, I still hadn't lost the feeling that I had when I was there. The memories of my past and those I have lost are very poignant each year. There is no doubt participating in the ride assists me in my personal life and has greatly reduced my social isolation. I wanted to participate some way, apart from riding and supporting lost mates' memories. To give something back in effect.
I had collected many Police badges & plaques over the years and decided that they would be better served to raise funds for Legacy, rather than being on a wall in my bar.
A photo of a section of the Wall in Canberra gave me the inspiration to reproduce it in print and place the plaques I had on it. A focus group was tasked for opinions on reproducing the wall in this way, to ensure that commerciality did not tarnish the sanctity of the National Police Wall of Remembrance. Once the feedback was received there was only one plaque to obtain. I did not have a South Australian plaque, and the Wall to Wall ride family donated one. They also gave permission for the use of this years (2016) logo. The piece was expertly designed and printed and then mounted and framed. It contains genuine, and in many cases, obsolete badges from all Australian States and Territories, plus PNG and NZ.
I hope it goes to a suitable home where it will continue to raise awareness and support for future Wall to Wall rides, and raises much needed funds for Police Legacies."