WALL TO WALL
10th YEAR ANNIVERSARY
AROUND AUSTRALIA BATON RE-RUN 2019
Wall to Wall commemorative batons were delivered to Canberra for a ceremonial presentation to founders Michael Corboy, Brian Rix and National W2W committee chair John Laird to be carried via motorcycle to Commissioners in each Jurisdiction.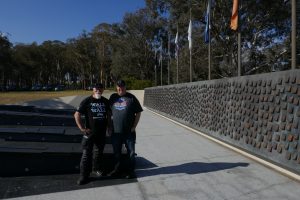 Brian Rix has been joined on the ride around the country by John Laird, Victoria's LSCs Mark Vipond and Georg Berk, and retired Superintendent Luke Moore and Retired Inspector Stephen Hudson from NSW.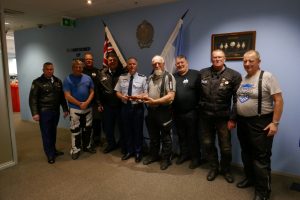 The purpose of the baton re-run is to:
to highlight the 10th Anniversary of the Wall to Wall ride;
to promote the principles of the Wall to Wall ride
to highlight among former and current serving police officers the work of Police Legacies
Promote community interest in supporting Police Officers and their legacies
Proposed Itinerary May/June 2019
Sat May 18th Depart Melbourne to Canberra (666km)
Sun 19th Canberra – Ceremony at National Police Memorial to present batons to the riders and to present AFP baton to Commissioner.
Travel to Sydney (290km) overnight in Sydney
Mon 20th Sydney – NSW Baton presented to the Commissioner
Travel to Tamworth (377km) overnight in Tamworth
Tues 21st Tamworth to Grafton (309km) overnight in Grafton
Wed 22nd Grafton to Brisbane (via Beaudesert) (322km) overnight Brisbane
Thurs 23rd Brisbane – Ceremony at QPS Memorial Botanical Gardens Brisbane Central to present baton to Qld Commissioner Stewart
Brisbane central to Roma Roma (477km) overnight Roma
Fri 24th Roma to Longreach (701km)
Sat 25th Longreach to Mt Isa (646km)
Sun 26th Mt Isa to Tennant Creek or a roadside stop after Three Ways (663km)
Mon 27th Tennant Creek to Dunmurra (355km)
Tues 28th Dunmurra to Darwin (634km)
Wed 29th Darwin Ceremony to present Baton to NT Commissioner at NT Memorial
Rest Day – overnight in Darwin
Thurs 30th Darwin to Timber Creek (602km)
Fri 31st Timber Creek to Halls Creek (584km)
JUNE
Sat 1st Halls Creek to Broome (686km)
Sun 2nd Rest Day – overnight Broome
Mon 3rd Broome to Port Hedland (609km)
Tues 4th Port Hedland to Coral Bay ((745km)
Wed 5th Rest Day – Coral Bay overnight
Thurs 6th Coral Bay to Carnarvon (238km)
Fri 7th Carnarvon to Geraldton (480km)
Sat 8th Geraldton to Perth (414km)
Sun 9th Perth – Ceremony to present baton to WA Commissioner
Rest Day – Perth
Mon 10th Rest Day – Perth – tyre change, service, repairs
Tues 11th Perth to Kalgoorlie (593km)
Wed 12th Kalgoorlie to Balladonia Hotel/Motel (377km)
Thurs 13th Balladonia Hotel/Motel to Eucla (519km)
Fri 14th Eucla to Streaky Bay (601km)
Sat 15th Streaky Bay to Adelaide (701km)
Sun 16th Adelaide – Ceremony to present baton to SA Commissioner
Rest day or to leave for Melbourne
Mon 17th Adelaide to Melbourne (727km) – overnight on the road
Tues 18th Rest day Melbourne/Castlemaine
Wed 19th Melbourne Ceremony to present Baton to VIC Commissioner
Overnight on Spirit of Tasmania to Davenport
Thurs 20th Davenport to Hobart (255km)
Fri 21st Hobart – Ceremony to present baton to TAS Commissioner at TAS Academy Memorial
Rest day – Hobart
Sat 22nd Hobart to Sty Helens(178km)
Sun 23rd St Helens to Davenport (via Scottsdale) (354km)
Overnight on Spirit of Tasmania
Mon 24th Arrive Melbourne